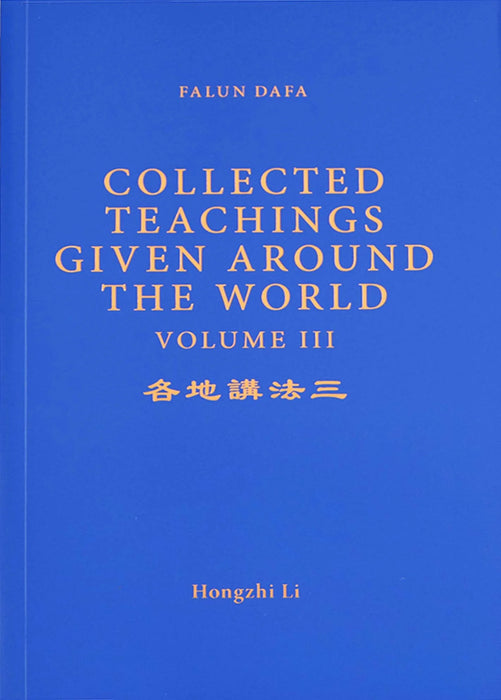 Collected Teachings Given Around the World Volume III - English Version
Original price
$20.00
-
Original price
$20.00
Collected Teachings Given Around the World, Vol. III compiles two of Master Li Hongzhi's lectures given in 2003. One in New York City, one in Chicago. 
The New York lecture features a question-and-answer portion where Master Li answers over 70 questions from students in great detail. 
Excerpt: 
Student: Esteemed Master, please tell us the connection between Moses, Israel, and Fa-rectification.
Master: Moses has nothing to do with the Fa-rectification. But I'll tell you something, and you shouldn't casually tell it to ordinary people, as it would be hard for ordinary people to understand. The truth is, Moses was in fact the god who was saving the believers of Judaism. After the Jews left Egypt the god that oversaw them was actually Moses. They called out to Yahweh, but actually Yahweh didn't save people since Yahweh is a higher god; the god who saved people was Moses. Moses, Jesus, and St. Mary are all on the plane of gods who save human beings. So Moses was the one who truly oversaw the Jewish faith. These are things people don't know much about. What I'm saying is the real situation. The Jewish race was created by gods, too, and so they are also a group we should try to save in the Fa-rectification.
Having come to this topic, let me tell you a few things you'll enjoy hearing. (Everyone laughs) (Applause)
Author: LI HONGZHI
Language: English
Paper Spec: 195mm x125mm
Pages: 112
ISBN: 9789578632394
Print Date: 2020 First Print